The 2021 Subaru Love Promise Community Commitment Award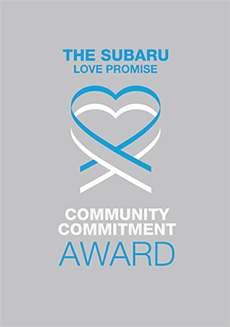 We've been nationally recognized for our dedication to our community and the Subaru Love Promise.
We're honored to receive the 2021 Subaru Love Promise Community Commitment Award. This award nationally recognizes Subaru retailers who are making the world a better place while demonstrating an outstanding commitment to supporting passions and causes in local communities. These efforts are focused in important areas such as the environment, community, health, education, and pets.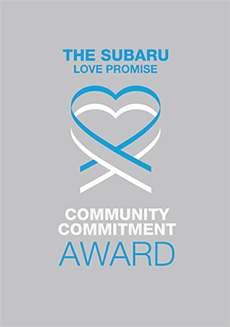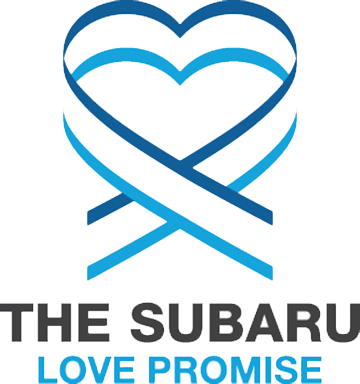 What is the Subaru Love Promise?
Subaru and our retailers believe in making the world a better place and the Subaru Love Promise is our vision of respecting all people. This is our commitment to show love and respect to our customers and to work to make a positive impact in the world.
How is Subaru of Richmond dedicated locally to the Love Promise?
Our Love Promise can be seen in various partnerships with local charities and non-profits. We're grateful for the opportunity, not only to be a part of our community, but to serve it as well.
Fetch A Cure, Goochland Animal Clinic
Special Olympics, Goochland Free Clinic , Virginia Home For Boys & Girls, Wounded Warrior Project
Love Promise Stories from Subaru of Richmond
Subaru and Subaru of Richmond believe in making a positive impact on the communities in which we live and work. We uphold that belief through our Love Promise Community Commitment. Every month, we select inspiring stories from customers and partners from around our area who strive to support our collective commitment and feature them here
HomeAgain Men's Shelter - Robert T
Subaru of Richmond dontates 250 blankets to HomeAgain Men's Shelter of Richmond. The HomeAgain Men's Emergency Shelter provides a temporary safe haven for approximately 20 single men who are experiencing a housing crisis. To facilitate success in finding and keeping housing, men receive intensive case management, resource referrals, and help with finding employment and housing. This facility also provides transitional housing for up to 8 honorably discharged U.S. veterans, who are on their way to exiting the program. Each man is met with compassion, care, and the belief in his desire and ability to overcome his housing crisis, along with the tools to do so. HomeAgain offers assistance in securing steady income and searching for housing, while helping to identify any barriers to success. HomeAgain's provides substance abuse counseling to help clients struggling with addiction and financial training to prevent crises in the future. https://www.homeagainrichmond.org/campaigns/mens-emergency-shelter/
---
A Love Promise for Lieutenant - Carol Anne L
On behalf of the 277 pets and their new families who met their match at the Richmond SPCA this October, our hearts are filled with gratitude to Subaru of Richmond for their support. Subaru's Love Promise will guarantee happy futures to hundreds more animals in need who are still waiting for lasting, loving homes. Lieutenant came to the Richmond SPCA all the way from Oxford, Mississippi, in June of 2020. He and his brother Higgins were both very undersocialized and scared when they arrived, and worked with the behavior and training team for weeks before medical staff could safely handle them to treat life-threatening heartworm infections. When we shared his story, it was seen by Morris and Lorna Wilson who made an appointment and drove from Baltimore to meet Lieutenant. After fostering him, they were committed to give this nervous dog the home he needed. On October 15 Lieutenant was formally adopted into the Wilson family. He continues to thrive in their care, following his people through the house and keeping watch over the deer who come into the yard. Thanks to Subaru for making this and hundreds more happy adoption stories possible. Your Love Promise has brought the joy of companionship into homes across Greater Richmond and beyond and will continue to come to the rescue of at risk pets in municipal shelters around the region.
---
FETCH A Cure unveils steel dog at Deep Run Park - Billy T
Officials from FETCH A Cure and Henrico County unveiled the fourth FETCH A Cure public art installation in the Metro Richmond region Sept. 16 at Deep Run Park. The organization's steel dog statue is designed to remind dog owners to check their pets for the early warning signs of cancer. FETCH also helps owners whose pets have been diagnosed with the disease. It's the second FETCH art installation in Henrico; the first was unveiled at Short Pump Park. Each year, the steel dog sculptures are sponsored by businesses, veterinary practices and individuals then transformed into community works of art by area artists. The Deep Run Park steel dog sculpture is sponsored by Canine Adventure, Holiday Barn Pet Resorts, RedRidge Pet Market, and Subaru of Richmond. https://www.henricocitizen.com/articles/fetch-a-cure-unveils-steel-dog-at-deep-run-park/
---
Subaru Revs Up Longdale Elementary - Lara B
Keeping a school running is like keeping your car running. You are always monitoring the performance and looking for ways to keep it in top condition. To do this, you need to use quality resources and expert analysts. So, imagine our excitement to be selected the recipient of a Subaru Love Promise. This infusion of science related books could not have come at a better time as Longdale was just about to hit the road and embark on a STEAM adventure. When the books arrived, they were added to our grade level STEAM carts; ensuring that all the students had access. This upgrade ensured that our carts were operating at top performance and that we were able to hit the STEAM Road in style. To run these carts and STEAM challenges takes a lot of materials. It is like having to gas up on a weekly basis. Using the Staples Gift Card, which was part of the Subaru Love Promise, allowed us to purchase supplies for these hands on opportunities. Thanks Subaru of Richmond for being our Community Partner and for helping us on our journey.
---
Subaru/LLS Society Loves To Care Blanket Delivery - KHiem T
On Tuesday, July 2, 2019, the Virginia Chapter of The Leukemia & Lymphoma Society and Subaru of Richmond had the pleasure of delivering 80 blankets and 30 arts & craft kits to VCU Medical Center as part of the Subaru Loves To Care program. These comforting gifts were accompanied by 80 personalized messages of hope written by the customers and staff of Subaru of Richmond. The event was followed by a tour of the Massey Cancer Center Goodwin Research Laboratory, where doctors shared some of the science behind today's cancer-fighting research and procedures. This incredible act of generosity was warmly received by the VCU Medical Center staff who were thrilled to distribute these comforting gifts to their patients.LLS is proud to partner with Subaru to spread hope, love and warmth to those fighting cancer, across the country and right here in the Richmond, VA community. Many thanks to everyone at Subaru of Richmond and VCU Medical Center, not only for a memorable day, but for supporting LLS's mission to cure blood cancers and improve the quality of life of patients and their families.
---
17th Annual Dog Jog and 5K Run - Billy T
Thank you for lacing up your sneakers and leashing up your dog for the 17th Annual Dog Jog and 5K Run, on March 23, 2019! Together, thanks to our participants, team and individual fundraisers, sponsors like Subaru of Richmond, and supporters, we helped raise more than $191,000! All proceeds will benefit the pets in our care and the lifesaving programs and services we provide to our community!
---
Helping Our Local Businesses and Local Charities - Billy T
On March 21st, 2019 Subaru of Richmond helped sponsor the annual "Rockin On The Rails" Charity Event held at Main Street Station. All proceeds will benefit grants to local charities in 2019 through the Rotary Club of Richmond Foundation. An average of $50,000 is donated to 5 or 6 charities each year. Subaru of Richmond helped make this grant season another successful one!
---
SUBARU/LLS BLANKETS FOR CANCER PATIENTS - Khiem T
On August 16th, the Leukemia & Lymphoma Society (LLS) and Subaru of Richmond had the pleasure of delivering 80 blankets to the Acute Care Oncology Unit at VCU Massey Cancer Center. Billy Theodorakos and Rocco Karamoutsos of Subaru of Richmond were so instrumental in making this partnership a success. The original date for the delivery was canceled and they were very accommodating of the date change. They loaded cars and spoke with all nurses individually and stayed to take pictures with everyone. They also took the time to tour the unit to see where the patients are spending their time during treatment. I think that was the most impactful part of the whole trip because until you get to see where these individuals are staying, you can't even start to imagine what these people are going through. Billy and Rocco felt so strongly about our mission that they are a $10,000 sponsorship for the Light the Night event in Richmond. It is through this generous sponsorship that we can continue to provide life-saving research. The Loves to Care event reminds everyone that there are more people out there that care about them than just their immediate circle of supporters.
---
Subaru of Richmond Helps Cancer Patients - Khiem T
The Virginia Chapter of The Leukemia & Lymphoma Society (LLS) was honored to have Subaru of Richmond as a partner for the Loves to Care program. Subaru customers wrote Messages of Hope that were delivered with blankets as well as arts and crafts kits to cancer patients at VCU Massey Cancer Center and Children's Hospital of Richmond at VCU. Patients like Emberlyn received the blankets as a sign of warmth and love, to keep her warm as she continues her fight against cancer. Through LLS's network of 56 chapters and Subaru's presence in communities across the country, together, we are reaching and supporting even more patients, families and caregivers in their time of need. As the largest voluntary cancer health agency specifically focused on finding cures and treatments for blood cancer patients, LLS supports hundreds of cancer scientists and research projects around the world. But the fight against blood cancers cannot be won without supporters such as Subaru and their customers. Every voice, every action, every contribution is needed and valued.
---
Subaru and NWF Loves the Earth - Melanie P
My first grade class had a great time planting all of the lovely donated plants. Not only did the learn all about plants but the were able to be part of our school community and create a brighter entrance to school. Thank you for the generosity and helping the students be a team and give back to their school community.
---
My first Subabru - Ruthie R
The team at Subaru of Richmond was so helpful and caring about getting me my first Subaru. My parents swear by these cars and urged me to make the switch, especially with my move to my first duty station all the way in Kansas. I'm very glad I made the switch because my Crosstrek made the trip comfortable and smooth. I felt very safe in the rainy and cold conditions. Now, I look forward to getting some time off to do road trips and explore in my lovely car!
---
Dalmatians love to travel in their Subaru - Cynthia
I have 2 Dalmatians who love to travel and they are enjoying their new Subaru Forester. They are safe in the vehicle and in their crates and comfortable too with all the extra features. We all go to visit our Dalmatian friends in VA and PA. The Dals and their owner enjoy the fun adventures. Thank you for all you all do. Cynthia, Raina and Sunset
---
Our family & Subaru Joanne S. - joanne S
When it was time for a new car, it was an easy choice: it was going to be a Subaru from Subaru of Richmond. Jacque Moore and his staff's support for organizations such as FETCH a Cure, World Pediatric Project, and Special Olympics, represent the type of committed partners that I value within this city. The second reason I chose Subaru was for a compact car with enough space for me, my daughter, and our two dogs. Oh, and one of those dogs was 95 pounds and tall...very tall. The Crosstrek fit us all perfectly and will for a very long time!
---
Subaru - A Community Partner - Tonie S
Subaru of Richmond embodies the true meaning of being a partner. Their support is not only in the financial form, but they also support us by participating in our events and connecting us to others that can benefit from our services and or donate to our cause. FETCH a Cure is proudly displayed in their showroom and the sale associates are well versed in our cause and share our cause with their clients. Additionally, Subaru of Richmond selected FETCH a Cure to be the beneficiary of their "Share the Love" program. Contributions received from "Share the Love" help us increase pet cancer awareness and fund financial assistance for pet cancer treatments. These treatments are life-saving and critical in preservation of the family unit. We'd like to thank Jacques Moore for all his support year over year. He's a true pillar of the community and a friend to FETCH a Cure. We are most fortunate to be one of the many charitable causes he supports.
---
Subaru Loves the Earth - E-Waste Event - Danielle S
We would like to thank our customers for participating in our E Waste Recycling event during the month of April. With your help, we were able to prevent 10,449 lbs of carbon emissions from polluting the atmosphere. This is equivalent to saving 401 trees, 1,777 gallons of gasoline, 15,148 plastic bottles, and 69,677 aluminum cans. Thank you for helping strengthen the Subaru Love Promise!
---
April 1-30, 2015 E-Waste Recycling Event - Molly M
Throughout the month of April, we are hosting an E-Waste Recycling Event in our store to collect unwanted electronics. We've arranged to work with a company who will responsibly collect, re-purpose, and recycle your electronic waste. Help us protect our environment. Just show up with your E-Waste and we'll do the rest! The first 50 customers who contribute will receive a complimentary environmental badge of ownership. We will accept: LCD Monitors, Cell Phones, Laptops, Tablets, CRTs up to 40, Video Games/Consoles, Fax Machines, DVD/VCR Players, Printers, Computer Peripherals, Switches/Routers, Cords and Wires.
---
Giving Back and Driving Forward - ROBIN M
Subaru of Richmond, one of the Moore Family of Dealerships, values giving back to the community and getting drivers into the right Subaru. Cars get members of a community where they need to go, but giving back is what drives community enrichment. The people at Subaru of Richmond are keenly aware of that. As part of the annual Subaru Share the Love campaign, Subaru of Richmond gave car buyers the chance to choose from several nonprofit organizations to which a donation would be made. From December 2013 to January 2014, the dealership donated $250 per car purchase to one of the organizations. The difference this year? our store was able to select a local organization to be one of its eligible recipients. That organization is FETCH a Cure, a local nonprofit focused on maximizing the lives of people and their pets through education and bridging financial gaps that can arise from caring for animal companions. The Share the Love campaign generated more than $4,200 for FETCH a Cure, which represents money that will help to increase the knowledge base of pet owners and the quality of life for pets. "FETCH a Cure was beyond thrilled to be selected as the local charity for the Share the Love campaign, and we are so proud to have such dedicated partners at Subaru of Richmond," said Robin Moncol, director of development at FETCH a Cure, in an email. "The results were amazing, and it really speaks to Subaru of Richmond's and their customers' commitmen
---